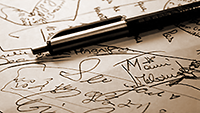 CALLIGRAPHIC
Thanks to our team of experts calligraphers, we produce all type of documents technical and/or scientific: Expert Reports of Party / Judicial Expert Opinions Extrajudicial and Pre Reports of Extrajudicial. And its ratification in Judgment in the event that necessary.
Our expert experts in calligraphy perform surveys calligraphic all type of firms, surveys of vises and expertise of copy of documents among others.
The Expertise of calligraphy offered by our company through our forensic experts, it consists of techniques for the detection, for judicial proceedings, of fraud and forgery made through documents, manuscripts and/or signed that we provide for our review.
The Expertise of Calligraphy, should be performed by forensic experts, with recognized professional experience, as it is a technique for the detection of fraud and forgery
The ability to act before Courts of Justice for the detection and determination of:
Counterfeiting documentary. Of all kinds.
Anonymous you can receive on paper.
Crimes that use textual manuscripts or may be evidence of special circumstances.
Any other aspect that can be detected through the writing.
We are specialized in the processing, management and development of all types of expert reports. Our team of experts performs appraisals, expert opinions and reports court and part in a wide variety of disciplines and/or specializations.
We collaborate with professionals of recognized prestige and experience verifiable in their professional field and court. The experts have been selected and ratified in advance by our company, to ensure the provision of their professional services.